Description
The stylish greenery adds a natural and refreshing look to your wedding. They are versatile and easy to work with, helping make your big day decoration project completed.
Coolish afternoon, with the warm setting sun crossing the yellow leaves arrive at your table. Terracotta theme flower, golden leaves, celebrate the harvest of both the lovely season and your beautiful love.

PACKAGE DETAILS:
Materials: Artificial greenery with wired stem easy to work with.
#SilverDollarEucalyptus
Package: 25.55" Tall Silver Dollar Eucalyptus x6.
#RusticSpiralEucalyptus
Package: 13" Tall Rustic Spiral Eucalyptus x2, 24" Tall Rustic Baby Eucalyptus x4.
#SeededOvalEucalyptus
Package: 23" Tall Seeded Oval Eucalyptus x6.
#EucalyptusandWillowLeaf
Package: 19" tall Silver Dollar Eucalyptus x2, 20" tall Willow Leaf Spray x3.
#RoseLeaves35pcs
Package: Rose Leaves x35.
#RusticTerracottaComboPack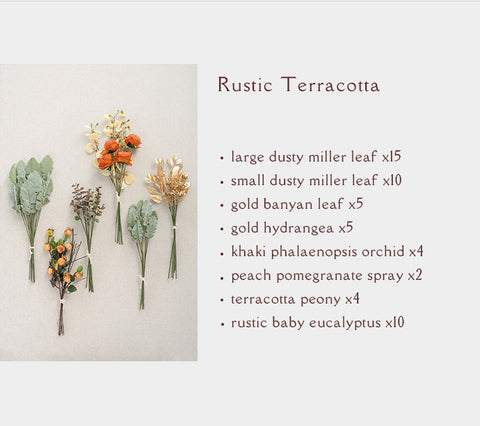 #ViridityEucalyptus
ComboPack
#SunsetFallgreenerycomboPack
Package:

 Persian Buttercup x6, Silver Eucalyptus Leaf x4, Silver Dusty Baby Blue Eucalyptus x5, Red Eucalyptus x2, Anemone x3
Orders with in-stock items will be handled and shipped within 3 business days. Once your order leaves the warehouse, it will be delivered in 5~7 business days.
Pre-order items are scheduled to ship according to its estimated ship date.
Please note orders with multiple items may ship separately. You will receive a shipping notification email with tracking number once items are shipped.
We hope you are happy with everything you buy, however, if there is anything that does not meet your needs or expectation, you can return within 30 days of receiving for a refund or exchange. 
If you receive a defective or damaged item, please let us know, we will replace it for you ASAP.