Description
Artificial flowers look lifelike and never wilt.
Each box set packs a variety of flowers and greeneries in a cohesive color scheme. With the flexible wire stems, the flowers and greeneries are perfect for you to create your bouquets, centerpieces, wreaths, cake decorations, or any other floral arrangements that you want on any special occasion.
 
PACKAGE DETAILS: 

#BoldBurgundyDeluxe
#ClassicBurgundyBlueDeluxe
#ClassicBurgundyDeluxe
#ExquisiteDustyRoseDeluxe
#LuxuryBurgundyDeluxe
#MatureDustyRoseDeluxe
#NobleBurgundyDeluxe
#PassionateMarsalaDeluxe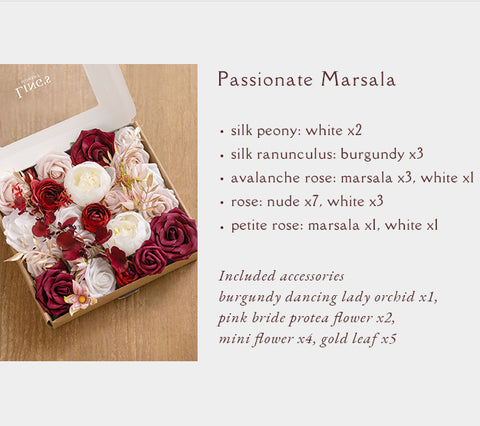 #RusticSunflowerDeluxe
#MatureBurgundyDeluxe
#ChicTerracottaDeluxe
#FestiveRedDeluxe
Package:
ivory semi-cactus dahlia x3 (assorted sizes), dark red real touch rose x1, cream vendela rose x1, ivory cabbage rose x1, dark red cabbage rose x3, brick red mondial rose x4, dark red flannel escimo rosex4, white taraxacum x2
Included accessories: laurel leaf x2, golden leave x1, wine berry x1, gold floral pick x1, golden ball x3, cypress leaf x2
#EnchantedMarsalaDeluxe
#ExquisiteBlushDeluxe
#FascinatingMarsalaDeluxe
#DelicateDustyRoseBasic
#ExuberantBurgundyBasic
#PoppyRedBasic
#AbundantMarsalaBasic
#CharmingMarsalaBasic
#MoodyBlackBaccaraBasic
#UniqueBlackPlumBasic
#CharmingBurgudyBasic
#GracefulDustyRoseMiniBasic
#EnchantingMarsalaMiniBasic
Orders with in-stock items will be handled and shipped within 3 business days. Once your order leaves the warehouse, it will be delivered in 5~7 business days.
Pre-order items are scheduled to ship according to its estimated ship date.
Please note orders with multiple items may ship separately. You will receive a shipping notification email with tracking number once items are shipped.
We hope you are happy with everything you buy, however, if there is anything that does not meet your needs or expectation, please request a return or exchange within 30 days of the delivery date. 
RETURNS 
For step-by-step return process you may contact us at support@lingsmoment.com so that you can get a full refund or exchange. (shipping fees not included) 
If you receive a defective or damaged item, please contact us immediately so that we can replace it for you. 
EXCHANGES
Exchanges are only accepted for the original style/product. All exchanges are based on stock availability. If you wish to exchange your items for an alternate style/product, we suggest that you may return the original items for refund and place a new order.